The Kyoto University-Inamori Foundation Joint Kyoto Prize Symposium (KUIP) was established in 2014 to mark the 30th anniversary of the Kyoto Prize.
The Kyoto Prize is based on a unique philosophy and selection process, and is widely regarded as one of the most prestigious international awards for lifetime achievement in the sciences, engineering, arts, and philosophy. It is our hope that, through raising international awareness of the Kyoto Prize and spotlighting its laureates, we will contribute to the advancement of scholarship and the recognition of its achievements. Through holding the KUIP Symposium we aim to advance Kyoto University's mission to contribute to harmonious coexistence within the Earth's human and ecological community.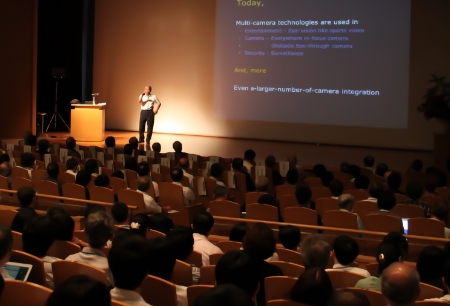 To achieve this goal, Kyoto University has hosted an international symposium annually from fiscal 2014 to fiscal 2017 at the university's Clock Tower Centennial Hall, focusing on the three categories and twelve fields in which the Kyoto Prize is awarded. A great number of participants, including researchers, students, and people from all walks of life have attended the symposium each year.
Beginning in fiscal 2018, one of the past Kyoto Prize laureates is invited as a speaker to the symposium held in Tokyo or online, with a focus on his or her achievements, creating an opportunity for people of all ages and professions, including high school students, to learn about cutting-edge research.
We will continue to hold the symposium in fiscal 2022 and beyond in the hope that the Kyoto Prize will attract even more attention and inspire researchers and artists from around the world.