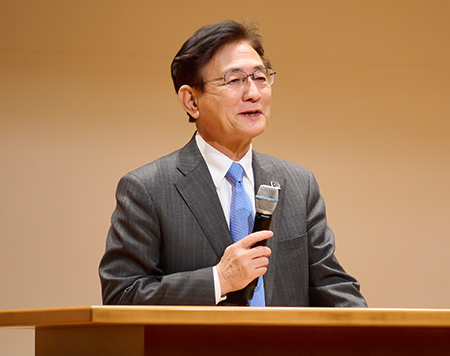 Nagahiro Minato,
President, Kyoto University
The Kyoto University-Inamori Foundation Joint Kyoto Prize Symposium (KUIP) is an annual international symposium hosted by Kyoto University in cooperation with the Inamori Foundation. On behalf of Kyoto University, I would like to take this opportunity to express our gratitude to President Shinobu Inamori-Kanazawa and the Inamori Foundation for their ongoing support of Kyoto University and our activities.
The award was conceived by Dr. Kazuo Inamori, former president of the Inamori Foundation and an honorary fellow of Kyoto University, as a means to contribute to the advancement and development of humanity. In 2014, on the occasion of the award's 30th anniversary, Kyoto University launched the Joint Kyoto Prize Symposium as an annual event with the aim of raising international awareness of the award.
From 2014 to 2017, the symposium focused on the three categories and twelve fields of the Kyoto Prize, and each year it adopted as its themes the three fields in which the prize would be awarded two years later. The most accomplished and remarkable researchers and specialists in those fields were invited to speak at the symposium, which was held at Kyoto University. The symposium provided a platform for fresh encounters between scholars in diverse academic fields, and the development of new knowledge. Its lectures sought to encourage the next generation of researchers, and promote the development of cutting-edge technology and new academic advances, the benefits of which were to be shared widely throughout society.
From 2018, the KUIP Symposium has been held in Tokyo. Until this year, it has focused on the field of specialization of its main presenter, who was a laureate of the Kyoto Prize. From 2022, honoring the late Dr. Kazuo Inamori's desire to contribute to the advancement and development of humanity, the symposium will be centered around the remarkable research being undertaken at Kyoto University.
The symposium reflects the interdisciplinary spirit of the Kyoto Prize in encouraging interaction among diverse fields of study, and providing a variety of viewpoints for an audience of diverse age groups and professions. I am confident that it will provide participants with a great opportunity to experience the cutting-edge of academic research. I hope that you will continue to support and enjoy future editions of the Joint Kyoto Prize Symposium and that through our endeavors we can promote the Kyoto Prize and contribute to the further development of Kyoto as a city of culture and scholarship.